As many of you know, last February (after working here since I was 15!!) my wife, Amanda, and I purchased Kimball Fruit Farm from Carl and Marie Hills.  While we were excited to fulfill our dream of owning and operating a farm and were lucky enough to take over an already successful operation, we also had a long road of learning and discovery ahead of us in terms of small business management, marketing, and finding the balance between running a farm and raising two small children.  I am writing this post as a way of thanking each and every one of...
---
It's officially summer here at Kimball Fruit Farm!  Usually, the Fourth of July is the big turning point out in the fields and orchards: the late spring products (strawberries, green garlic, scapes) are on the way out and the early summer products are just starting to ripen (raspberries, blueberries, sweet cherries, summer squash and zucchini, peaches, plums).  Early July is the magical time where you will see these products intermingling on our shelves beaconing us over to join them in celebrating the change of seasons! A lot of you have been asking us when to expect three products: peaches, corn,...
---
Amanda and I (David) are so excited for our first spring as the new owners of Kimball Fruit Farm.  As many of you know, I have been part of the Kimball Fruit Farm family for over half my life so starting things up in the spring feels as natural to me as riding a bike.  That being said, planting my first seeds of the season in 2022 was filled with the anticipation and excitement of starting this new chapter with Amanda and our children (I did not miss the parallel between nurturing a plant to fruition and growing and developing...
---
Happy Winter,  David and I (Amanda) would like to introduce ourselves as the new owners of Kimball Fruit Farm. We both grew up in Hollis, NH and continue to live in town with our two children. David graduated from Eastern University with a BA in Biblical Studies and a Minor in Psychology. I graduated from Keene State College with a BS in Sociology and a Minor in management. David has worked at Kimballs for the past 18 years: starting as an after-school job as a sales clerk and harvester, and eventually moving on to managing farmer's markets, planting schedules, and...
---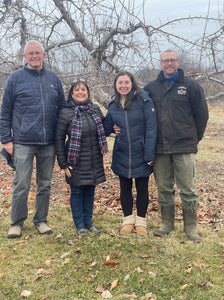 To Our Loyal Customers; Kimball Fruit Farm has been owned and operated by the Hills family and its relatives since 1928. We, Carl and Marie Hills have been at the helm since 1990 and are officially announcing our retirement and sale of Kimball Fruit Farm today at 4:00pm. As Carl says "farming is a young persons job!" We want to thank all of you for years of loyalty and friendship. Many of you have been customers for generations. That is amazing and we are grateful to all of you. We have forged relationships with many outstanding chefs and have learned...