Our first season with our summer children's program has officially begun, and we had a fantastic turnout for our inaugural event! 40+ children from toddlerhood thru elementary school gathered on our hill to listen to a reading of "Blueberries for Sal" with a blueberry nature walk through our blueberry fields afterward. We had a really positive response from attending families and we can't wait for the next one on Aug 1st  - Story time and touch a tractor at 11AM on our hill!
---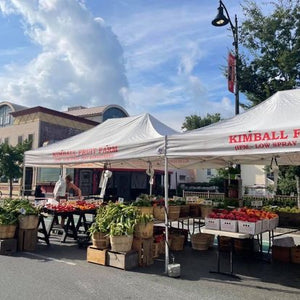 At the beginning of the 2023 season, David joined Kate Stillman owner of Stillman Quality Meats; Edith Murnane, Executive Director of Mass Farmers Markets; and Ashley Randle, the Commissioner of the Massachusetts Department of Agricultural Resources to discuss "the landscape of farmers markets in [Massachusetts] and what it means for equitably connecting residents to local, fresh, and affordable food." We definitely think it's worth tuning into!! Follow the link to have a listen!  
---
As many of you know, last February (after working here since I was 15!!) my wife, Amanda, and I purchased Kimball Fruit Farm from Carl and Marie Hills.  While we were excited to fulfill our dream of owning and operating a farm and were lucky enough to take over an already successful operation, we also had a long road of learning and discovery ahead of us in terms of small business management, marketing, and finding the balance between running a farm and raising two small children.  I am writing this post as a way of thanking each and every one of...
---
It's officially summer here at Kimball Fruit Farm!  Usually, the Fourth of July is the big turning point out in the fields and orchards: the late spring products (strawberries, green garlic, scapes) are on the way out and the early summer products are just starting to ripen (raspberries, blueberries, sweet cherries, summer squash and zucchini, peaches, plums).  Early July is the magical time where you will see these products intermingling on our shelves beaconing us over to join them in celebrating the change of seasons! A lot of you have been asking us when to expect three products: peaches, corn,...
---
Amanda and I (David) are so excited for our first spring as the new owners of Kimball Fruit Farm.  As many of you know, I have been part of the Kimball Fruit Farm family for over half my life so starting things up in the spring feels as natural to me as riding a bike.  That being said, planting my first seeds of the season in 2022 was filled with the anticipation and excitement of starting this new chapter with Amanda and our children (I did not miss the parallel between nurturing a plant to fruition and growing and developing...